Vietnam is unusual destination for scuba diving, but you are going to be surprised that there are hidden gems under the Vietnamese sea with newly popular divers playground. And I'm sure that you shouldn't miss Vietnam scuba diving if you really want to enjoy this country completely.
1. What makes Vietnam scuba diving special?
Every country in the world lies in different zones, so each has its own climate and geography. That creates the diversity in the landscape as well as eco-system. Vietnam also has unique features that make it become an ideal place for scuba diving. Let's take a look at some quick facts.
Vietnam posses a pristine coastline of 2,025 miles stretching through many vibrant metropolises, which is longer than coastline of Thailand. And it means divers can join in Vietnam scuba diving at any time of the year and can expect opportunities to explore untouched water area. Moreover, the seascape in each region change according to the distinct geographical characteristics, so dive lovers can submerge into the water and can't find the similarity between places.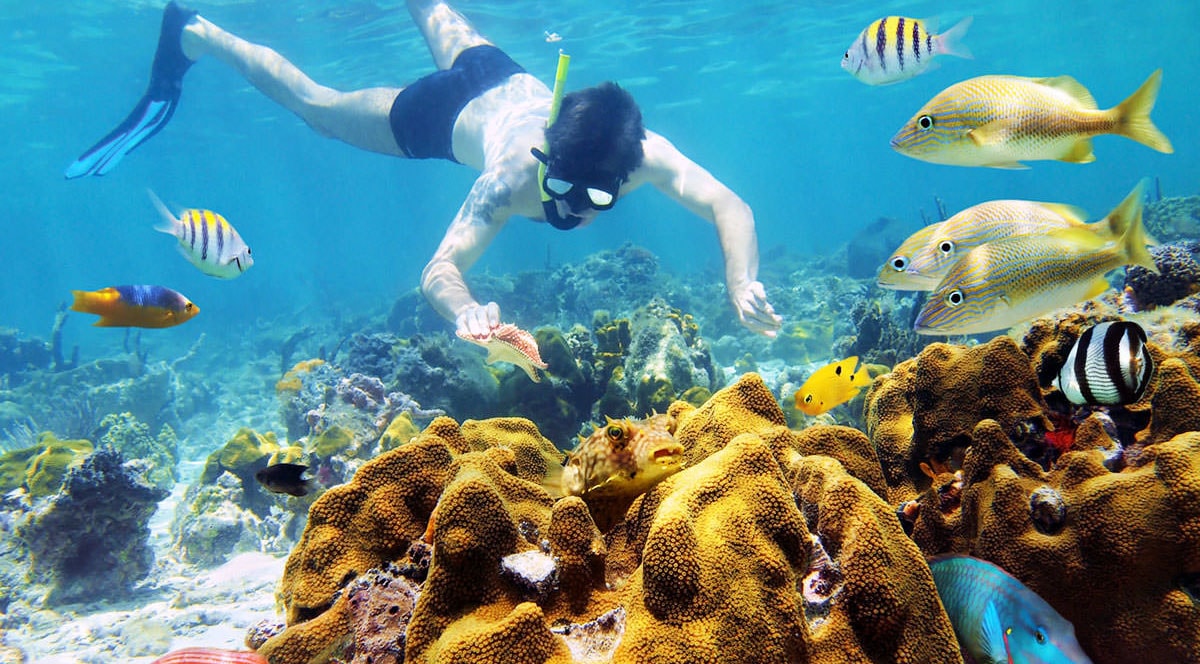 In general, Vietnam is rather newbie which is dedicated to scuba diving destination. However, divers may find it excited and adventuresome when exploring less tourist destinations. You will be supported by dive center and resort infrastructure which have quality guaranteed since 1990s. All their services are for your best Vietnam scuba diving experiences.
2. You definitely go to these places for Vietnam scuba diving.
Nha Trang
This place is really famous among travelers. The first time I came there I was amazed by its beautiful beaches. Maybe you are familiar with emerald water, fine sand and coconut trees, but there are more things that make Nha Trang beaches much more special. The coastline with mountains either side is truly picturesque and impressive views. There are lots of places for Vietnam scuba diving in Nha Trang. I came to two places for the last time and I would say they are both great. The first one I chose is a dive school cause I don't know much about diving and I need a instructor. This site name Mandonna Rock.
My instructor was a local man. He gave me a briefing course about diving and essentials instructions underwater. I had to swim around the area first to get used to with the water, then began navigating and saw some interesting marine life. I also admired some bleaching coral range, but I didn't find it interesting because it was damaged.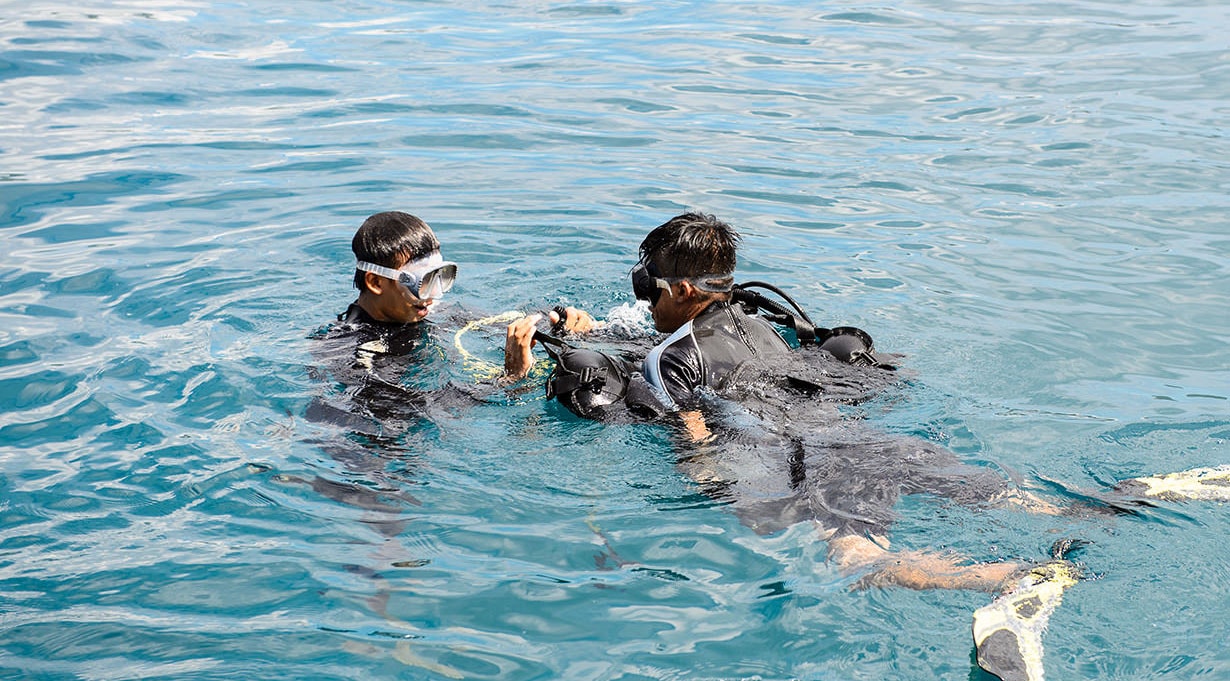 My next dive site was Mama Hanh Beach. This place was better than the former with shallow coral reef and more marine life. I had chance to see some clownfish with different colors, lionfish,… which was so lovely. It is said that this dive site partly used for Open Water training because of its large sandy area. If your purpose of Vietnam scuba diving is coral reef, I recommend you to come here. I found both hard and soft coral reefs with various colors and they were less damaged.
Other well-known location for Vietnam scuba diving is Hon Mun Marine Park which is for diver of all levels. You will find Moray Beach here where you have a chance to see moray eels. If you are a diving beginner and need more training, you go to this site because its shallow coral and sandy bottom are suitable for training dives. And of course the diversity of marine life will allure you. You can come across scorpionfish, clownfish, black frogfish,…
Hoi An & Da Nang
These spots haven't been received much enthusiasm for Vietnam scuba diving, therefore, diving sites there mainly remain untouched. Most of the dive sites in Da Nang are decorated with soft corals to support the underwater eco-system like: spiny scorpion, lionfish, sea bass,… the most popular diving sites in Da Nang are in Son Tra peninsula, about 8 miles from Da Nang port. You should avoid diving on October and January because of rough sea and bead weather.
Off the coast of Hoi An, you will find Cham island – another site for Vietnam scuba diving. At this site you can admire stunning marine world with colorful coral reefs, exotic fish and other strange creatures. Once arrival, you will realize that not only the sea but also the landscape there are amazing.
You can combine your Vietnam scuba diving trip with land travel there. On the island, the rich eco-system including animals, fauna and flora surprises you a lot. You also feel the unique atmosphere with the smell of the sea, the sand can refresh your soul.
Con Dao islands
According to several divers, Con Dao takes the crown of the best destination for Vietnam scuba diving. It's a group of 16 islands, many of them are under the governmental protection. The optimal months for scuba diving are April and May. Beside the usual tropical coral reefs, you also have chance to see cobia, stingrays, barracuda, turtles, moray eels, batfish,…
Phu Quoc
I can't omit this place for the list of the best destinations for Vietnam scuba diving. It's located close to territory with Cambodia. The water here is so clear and calm that you can see the bottom. For those who don't have much experiences in diving, you can choose Dry island and Nudibranch island to relax under the calm water with the diversity of marine life. The other site that is more challenging is An Thoi islands at the southern of Phu Quoc. However, you have chances to see some bamboo sharks or blue-spotted rays which will become your unforgettable memory during your trip for Vietnam scuba diving.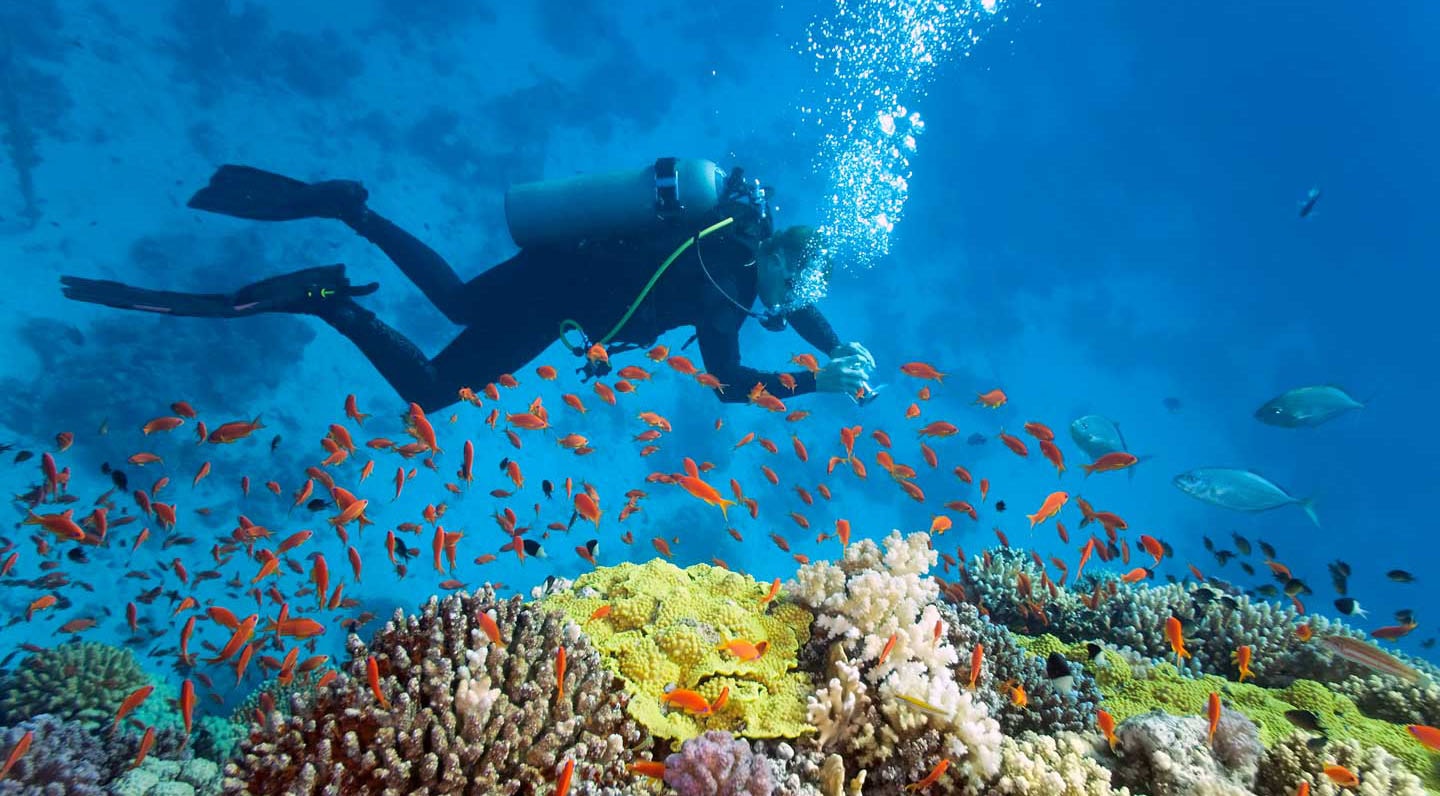 3. Vietnam scuba diving price?
The price for Vietnam scuba diving is various depending on the destinations, number of dive, diving time,… I can't tell the general price for all, so I will outline Vietnam scuba diving corresponded with each destination.
Vietnam scuba diving price – Nha Trang
There are so many prestigious dive centers there you can look up for them online or ask your hotel. They always provide you with scuba diving trip and diving courses. The price includes entrance fee to dive site, qualified instructor or divemaster, full equipment rental. Some center also offer free lunch, fruits and refreshments.
Vietnam scuba diving price in Nha Trang varies from 65 to 80$ and for course the prices are from approximately 220 to 310$. Some smaller dive centers can offer you better Vietnam scuba diving price, but you should check what are included and excluded.
Vietnam scuba diving price – Hoi An & Da Nang
In Da Nang, there are lots of resorts which offer a reasonable Vietnam scuba diving price in in Son Tra peninsula and Cham island. Their prices are approximately 600.000VND including entrance fee and canoe.
As you know, if you want to participate in classes, it will more expensive. And you should seek for in dive centers. The Vietnam scuba diving price for diving classes fluctuates from 380 to 480$. In some cases, they can give you discount. Scuba diving price in Cham island is more various with price from 65$ to 135$ half day scuba diving. And for classes, you have to pay more than 225$
Vietnam scuba diving price – Con Dao island
I have to say that Vietnam scuba diving price in Pho Quoc island is much more expensive than the others. If you buy a tour, the price will be from 151 to 201$ depending on the location with dive guide, air tank, weight belts, nitrox. The courses will charge you 567$ maximum. If you just want to submerse yourself underwater to see marine life, just buy tours.
Vietnam scuba diving price – Phu Quoc
If you just want to try scuba diving and look for fun, you can join in Try Dives & Refresher Pool with 50 – 100$. They also offer Fun Dives & Night Dives which is only for qualified divers. They charge you from 65 – 95$ for your Vietnam scuba diving trip.
Now I guess you have a general view about Vietnam scuba diving. If you are a sucker for adventure and mysterious world, don't miss this activity. Maybe you will discover a brand new fish or marine creature.